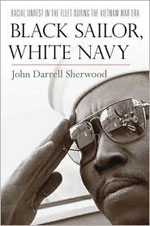 Race riots aboard Navy ships carrying weapons of mass destruction.
Imagine that.  On U. S. Navy ships, oil tankers and aircraft carriers, racial unrest rose to the level of riot. Black sailors trying to hurt white sailors; white sailors trying to hurt black sailors; sometimes these riots happened at sea during Vietnam wartime operations.  Most of this racial unrest occurred from 1970 to 1976.
I served in the U.S. Navy from June 1972 to March 1976.  In fact, as a sailor with Air Anti-Submarine Squadron 27 (VS-27), I was on board the USS Intrepid (CVS 11) during the race riot of January 1973. 5,000 men, on a ship carrying warplanes and tons of munitions; while at sea there were some black sailors and some white sailors randomly attacking each other by race.
That riot and other racial incidents in the Navy are recounted in John Darrell Sherwood's extraordinary book, Black Sailor: White Navy.  Often, I have thought of those years of racial turmoil. Not only thought of, but used stories of that time when teaching my students about the social psychology of racial tension.  When I have described the race riot aboard the aircraft carrier USS Intrepid, my students look at me in disbelief that such things could happen in one of the armed forces set up to protect American interests. Oh, I convince my students, but not because I have ever had a published source to point them too.  Now I have a source. Chapter 1-3 of Sherwood's book sets the racial context of the Navy.  In Chapters 4-10 Sherwood tells of particular racial incidents (see chapter 10 for the story of the Intrepid) and how those incidents were managed and later investigated.
Sailors know that sometimes a ship has been in port too long.  Then it's time to hoist anchor and move out onto the always challenging ocean.  Sherwood's book took me back to that tumultuous period in the Navy when Admiral Elmo Zumwalt ordered the Navy to lift anchor on the old racial port and set out to the uncharted sea of new race relations.  Sherwood is right to call the admiral's policy changes a revolution (chapter 3).  As the Chief of Naval Operations, Zumwalt used his power to begin to bring the Navy in line with modern society.  But Zumwalt knew that for those changes to make a difference he had to have the Navy pull up anchor from the old racial mud. Sherwood (p. 42) quotes Zumwalt as saying that the most important change, "…was to throw overboard once and for all the Navy's silent but real and persistent discrimination against minorities."  In a number of strong statements that were sent to each and every Navy unit and put in the hands of each and every officer and enlisted person, Zumwalt made the policies and the philosophy of the new Navy clear.  Spectacularly, in December 1970, Zumwalt wrote (p. 47):
"…we are counting on your support to help seek out and eliminate those demeaning areas of discrimination that plague our minority shipmates.  Ours must be a navy family that recognizes no artificial barriers of race, color, or religion. There is no black navy, no white navy – just one navy – the United States navy."
For so long I have wanted there to be a public telling of the story of that unruly time in the Navy.  My desire has always been because for me as a young black man, that time, those events were a crucible in my life.  I was just at 21 years old when I went in and just at 25 when I got out. I learned so much. Those experiences led me to my profession.  I found Social Psychology in the Navy.
Zumwalt's revolution, you see, was not just words yelled out over the fleet.  Zumwalt put in strong regulations and created mandatory race-related programming.  In chapter 11, Sherwood documents and describes the Navy's action to raise racial awareness. Understanding Personal Worth and Racial Dignity, UPWARD, "… was primarily a racial awareness course… that required 'skilled and experienced trainers'… and relied on part-time racial awareness facilitators (RAFs) to teach UPWARD courses."
After my service onboard the Intrepid, I was trained as a Racial Awareness Facilitator. Being trained as a RAF, facilitating over 20 seminars, working special human relations duties, was a catalyst for the rest of my life. My interest in group dynamics and race relations was peaked, and I sought out higher education and training. I became a social psychologist.  Since 1981, as a social psychologist I have been publishing research articles on intergroup relations. One of the courses I have recently created is "Interpersonal Relationships and Race."
For a day and a half, I was sequestered in my house, reading Sherwood's new book. As a scholar, I am impressed with Sherwood's documentation, interviews and summaries of what he found and learned. More personally, in vivid ways, Black Sailor, White Navy took me back to that important time in the Navy, and in my life. Sherwood tells of that time with truth. Sometimes, I had to stop to let my emotions be a storm at sea. Sometimes I stopped to reflect on a memory that was rocking me from port to starboard; left to right.
Being a witness to this time, what mattered most to me is that Sherwood gives respect to all the players in the racial unrest. He discusses each party's strengths and weaknesses and their goals (good and bad). He shows how the Navy misunderstood its own racial climate. Yet he gave respect, long due, to Zumwalt's revolution. Especially important to me, even when their tactics were clearly wrongheaded, Sherwood gave respect to the black sailors. He did this by always focusing on the history and state of race relations in the Navy up to that time. On that point, Sherwood documents and says plainly (p. 226) that "…there were indications of institutional racism in many of the episodes."
Sherwood's book is a true history. It is well done.  And when a job is well done in the Navy, we say, "Bravo Zulu."