I have a vague image of a woman holding a lamp that lights the way as she walks through a hospital room, watching over the sick and dying. That is the image that pops into my head when I hear the name Marie Curie.  Where in my childhood that I get such an image?
     That is the question I kept asking myself as I read Lauren Redniss book, "Radioactive, Marie and Pierre Curie, A Tale of Love and Fallout."  Turns out, I had no idea who Marie Curie had been, how important she had been to the science of radioactivity, and how she and her husband Pierre had shared a radioactive love.
     But theirs' was not the naïve idea of hot love that we live with today.  Pierre Curie was a physicist who studied crystals, and whose work was ground breaking, setting the foundation for the creation of mechanisms that power things we take for granted today; inkjet printers, medical ultrasounds.
     Marie Curie was never a nurse. She studied mathematics and physics, and when X-rays were first discovered became interested in minerals that gave off light; uranium being one. 
     Both Marie and Pierre were high level thinkers and researchers.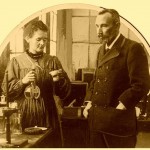 Can two geniuses find love and sustain a relationship?  For me, as I read, that became the central question about the life of Marie Curie.  A woman of her own mind, at a time when women usually were mere baubles on the arm of a man, Marie wanted a love life, a family, but she wanted equally to be able to do her independent work.  Pierre was a man who wanted Marie the woman, but who also wanted Marie the thinker.  So they became collaborators in all things; life and work.  Noting this about their relationship Redniss writes,
     "With the constant companionship that accompanied their research, the Curies' love deepened.  They cosigned their published findings.  Their handwritings intermingle in their notebooks.  On the cover of one black canvas laboratory log, the initials "M" and "P" are scripted directly one atop the other."
     Today we use the phrase "power-couple." Well here was the ultimate power-couple who shared marriage, children and a Noble Prize in Physics for their work on radium and radioactivity. It was Marie who coined the word "radioactivity."  Her work influenced everything we learned about and now know about radioactivity.
     Set up as a graphic novel, Redniss takes us through the many facets of the questions, quandaries and paradoxes that knowledge of radioactivity has brought to human history. That, in and of itself, makes this a book that all of us need to read. And the book, with its colorful, emotion laden art (by the author), is a captivating read that took me away for three hours. 
     For me, the most compelling part of the story is the human story. In her diary Marie wrote: "We [Pierre and I] lived in preoccupation as complete as that of a dream."  Yet dreams can contain moments of disappointment and even terror. 
     Still learning about the properties and effects of radioactivity, handling radium every day, both Marie and Pierre were being poisoned by their work. Pierre dies in part because he was so weakened by that poisoning.  Four years later, Marie takes a lover, another physicist, who is married.  That caused a scandal so extreme that two men had a duel over her honor, and she was discouraged from going to Oslo to receive her second Nobel Prize, this one in Chemistry.  Marie ignored these requests. That should have surprised no one because Marie Curie had always been an independent thinker.  That is why her greatest joys came in her relationship with Pierre. 
     What is radioactive love?  It is having someone who gets and respects your passion… that's radioactive love.  Such mutual respect lights things up; it heats things up.  It resists random change, even as it accepts its own natural change.
     To love is to respect.  Sadly and with imminent danger to self and others, too many people use the word "love" when they mean "want."  That is dangerous because "I want you" is only a statement of passionate desire.  "I love you" should be a statement of the interaction of desire, respect and commitment to the relationship that lights up everything. Love, you see, is a decision to bring and keep desire, respect and commitment together, in order to have an authentic, luminous, relationship.
    Marie Curie's relationship with Pierre was such because they respected each other.  Losing such a rare, radiant, element would be the most difficult thing ever in life. No wonder that when he died, a day after the funeral, in her diary Marie wrote,
     "My Pierre, I got up after having slept very well, relatively calm.  That was barely a quarter of an hour ago, and now I want to howl again—like a savage beast."
    You want to know what radioactive love looks like.  Read this book.