Wake Up! It's Serious presents Dr. Rupert Nacoste talking about and giving away his new book, "Howl of the Wolf" about NC State students describing their new awareness and understanding of neo-diversity. Come join us on Thursday, November 8 at 7:30 p.m. in Caldwell Lounge! This will be an Open-Mic event. Coffee and refreshments will be provided by Global Village.
That is how the November 8, 2012 event was announced to the whole NCSU campus on various web bulletin boards.  Also posted all over campus was this flyer:
You see, NCSU students were going wild for my new book, "Howl of the Wolf."
After the Psychology Club meeting and book give away, word started to spread.  Students began coming by my office to ask about this book they were hearing.  Some of these students were complete strangers to me.  One male student said, "I missed the Psychology Club meeting because I had to work.  I was wondering, though, if you'd give me a copy now."  I did.
I knew this was not an efficient way to do this.  But that was ok in the short term because the social change student group I advise was doing the work to put on a major event to introduce my book to the campus.
"Wake Up! It's Serious: A Campaign For Change" is a student advocacy group that grew out of my "Interpersonal Relationships and Race" class. Fall-2010, we had an incident of hateful, racial graffiti in our so-called Free Expression Tunnel.  That time students were outraged enough to organize a protest rally.  At the same time, I led a discussion in my class, and asked the students if they wanted to keep this energy going.  Students said yes, and over the following six months, "Wake Up! It's Serious; A Campaign for Change" was born.  Two years later, it continues to grow.  As an advocacy group, these students say their mission
    "…is to design campaigns to help North Carolina State University students learn how to speak up in the presence of intolerance by refusing to be silent when another person uses derogatory group terms. We have committed ourselves to speaking up when a fellow student utters words of intolerance toward a group of our fellow student-citizens.  We have also committed ourselves to creating and participating in concrete educational activities toward positive change in the campus diversity climate with the aim of strengthening the social bonds of our community."
The Wake Up! It's Serious" group put on a magnificent event with a spoken word artist Chicas, skits about diversity interactions, piano interludes by Justin Outlaw, with me as the main speaker at the end.
That night another 200 students showed up to listen, be entertained, hear me, and get a free copy of "Howl of the Wolf."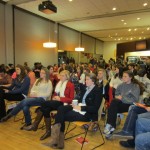 One person who showed up was a young white man who took my course the first or second time I taught it in 2006-2007.  I remembered him because I wrote a letter of recommendation for him to law school.  For a little while after he finished law school he had kept in touch, but that faded as it should have.  But here he was, dressed like a lawyer, at this event he heard about on Facebook.  He came to get a copy of the book.  He was stunned that I remembered him, but I did.
To my surprise, a few staff and faculty members from the college showed up.  Each spoke to me after the event, and each was very complimentary about the organization and content of the event and the turnout.  I assured the faculty that all the credit was due to the students in "Wake Up!  It's Serious: A Campaign For Change."
It was quite a night.  We gave away 162 books.