We are thrust into Ro-bears witness of the story of "The Seven." The story told in the manuscript is the centerpiece of this novella; a story within the story.  Written by the teenaged Ro-bear, but a repressed memory of the adult Ro-bear, the "story within the story" is an account of what happens in the lives of "The Seven"; seven black teenagers who are called to a supernatural battle which will determine the direction of civil rights history.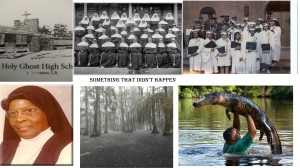 In the "story within the story," we start with "The Return of Ironhorse." We step into an alternate history of America where there had been no Civil Rights Act of 1964 and there are actual, giant physical walls of racial segregation. We enter that world through
Ro-bear's life in Opelousas as a student at Holy Ghost Catholic High School. We begin to meet Ro-bear's friends; "The Seven." We experience Ro-bear's puzzlement at Ironhorse's sudden reappearance at the school bringing odd questions. We meet the nuns who teach at the school, especially Sister Edward Vincent their English teacher who assigns Ro-bear's class Shakespeare's Julius Caesar. And then there's Mr. T'Garcon; a man who hunts gators.
With Installment 2, the story of "The Seven" continues: Installment 2 Something that didn't happen