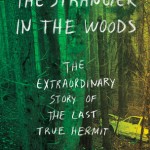 "Time amid the silence of nature, in other words, makes you smarter." (Michael Finkle)
     At some point in life, many say they just want to get away from it all; people and all that. But what would that really take?  What would that really mean?  What would that really benefit the person?  "The Stranger in the Woods: The extraordinary story of the last true hermit," by Michael Finkel takes on those question.
     At one point in telling the story of Charles Knight, Finkel writes:
     "Language and hearing are seated in the cerebral cortex… When one experiences silence, absent even reading, the cerebral cortex typically rests. Meanwhile, deeper and more ancient brain structures seem to be activated—the subcortical zones. People who live busy, noisy lives are rarely granted access to these areas. Silence, it appears, is not the opposite of sound. It is another world altogether, literally offering a deeper level of thought, a journey to the bedrock of the self."
     "The Stranger in the Woods," the story, is a compelling, intelligent, moving, intellectual, report on the questions of solitude based on the experiences of a man who lived in the woods of Maine, away from it all, unseen, unheard, untouched, by another human being for twenty-five years.
    Finkel observes:
     "At the end of a serene weekend [on a Maine pond] you can't help but envision quitting your job and remaining there for life. Everyone dreams of dropping out of the world once in a while. Then you get in your car and drive back home.
    Charles Knight stayed… He followed a very strange calling and held true to himself more fully than most of us ever dare to. He clearly had no desire to be a part of our world."
      I highly recommend this quick, profound meditation on the strength it takes to be truly alone and the benefits and costs that come with achieving that goal.